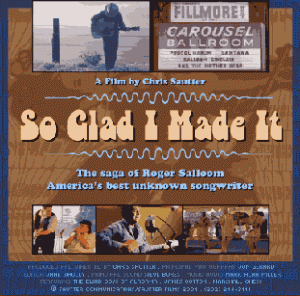 From GRAMMY Magazine,  the Recording Academy In Your Community, winter 2006…
"Docs that Rock,  Music-themed Documentaries Are Hotter Than Ever"  Top 16 must see music films.

So Glad I Made It: the saga of Roger Salloom, America's best unknown songwriter, by film-maker Chris Sautter. The story of singer/songwriter Roger Salloom and his struggle to revive his career.

The documentary boom is helping play a role in preserving the rich history of music and giving voice to some of music's most compelling cultural stories. 

Salloom's So Glad I Made It is one of the films capturing the importance and diversity of this growing genre."
The Story of the Movie
The Chris Sautter 2004 documentary, So Glad I Made It, the saga of Roger Salloom, America's Best Unknown Songwriter, screened to rave reviews in its day.
It screened at NARAS in New York at the Tribeca Cinema, the Belcourt Cinema in Nashville, TN, at various theaters including The Academy of Music, Northampton, MA, The Regent Theater, Arlington MA, The Indiana Historical Society, Indianapolis IN, among others, and has won numerous awards and rave reviews. Also, the National Academy of Recording Arts & Sciences (The Grammy Awards) has screened the film in New York City and Nashville in collaboration with their area chapter offices.
The film, was named "Best Documentary" at Spudfest Music & Film Festival in Teton Valley/Jackson Hole Wyoming and the Reelheart IFF. It also won the Providence Award at the prestigious Rhode Island International Film Festival and received Honorable Mention for Best Documentary at the New York International Independent Film & Video Festival in Las Vegas.
It's a shame, but the movie is not easily available anymore. If you can find a copy you'll be very lucky. Here's the write up on IMDB where it received a 7.3 out of 10 rating.
Reviews
"…The writing talent of Dylan or Guthrie…musical genius…hilarious and tragic, kindhearted and careless, all the complexities of a real human being."
– IMDb (Earth's biggest music data base)
"The reason why some people value art is that it somehow speaks to the joy and struggle
that is inherent in all of life. I found him to be extraordinarily open and honest in the course of this film, beyond what I expected."
– Chris Sautter, the director of 'So Glad I Made It'
"It's wonderful to hear Salloom sing his tunes. More than a biography, 'So Glad' also seeks to indict the recording business for its short-sightedness and inability to nurture talent."
– Julie E. Washington, Cleveland Plain Dealer
"Superb storyteller with a great sense of timing and the music is incredibly infectious."
– Rolling Stone Magazine
"It's the kind of film that you don't forget."
– Brian Goslow, Worcester Magazine
"Singer/songwriter Roger Salloom may be the definition of an underground superstar."
– IndianapolisMusic.Net
"There's a lot of music in the film — and it all sounds phenomenal – the film is enveloping."
– Dan Oppenheimer, The Valley Advocate
"Luckily for me as a film reviewer, I am forced to watch movies that come across my desk; many
of them gems that I many not have noticed otherwise. 'So Glad I Made It' is definitely one of those films. Most poignant, however, is the warm way Roger describes the financial hardships
and struggles between fame and fatherhood he had to overcome as a single parent raising two small sons. It is this side of Roger that brings us close to understanding a neurotic, gentle soul who weaves his experiences, ideas, and emotions into simple, yet profound songs beautiful enough to rival his infectious smile."
– Joanne Casale, Motif
***1/2 (out of a possible 4*)
"Salloom is an eccentric singer-songwriter who decades ago had several brushes with potential stardom but never quite made it. Now, after 20 years out of the music biz, Salloom
decides to give it another shot. Problem is, it's harder than ever to get that big break. That Salloom deserves stardom (after hearing him, you'll see what I mean,) makes his story all the more compelling and poignant."
– Tim Miller, Cape Cod Times
"Sautter's film, …. uses genuineness and the unpredictability of cinema verite to explain not
just why Salloom never played The Tonight Show, but to capture something more profound. It is a portrait of the way creativity can both lighten and burden a soul. It confers a blessing on a generation for whom music was a deeply liberating force. His (Roger's) is an intimate world. Sautter tries to suggest in these images how much the songwriter values – and trusts – ordinary places and experiences. What lingers, after the credits roll, isn't disappointment. It is the warmth of Salloom's personality, the beauty of his music and smile and the wonder of a man who always knew what made him happy."
– Larry Parnass, The Daily Hampshire Gazette
"What a wonderful documentary!"
– The Las Vegas Arts & Entertainment Corner